Today we welcomed Michael Tushman, Professor at the Harvard Business School and Andrew Binns Director and Co-founder at Change Logic to the Center for the Transformation of Work community meet-up to discuss their new forthcoming book, Corporate Explorer – How Corporations Beat Startups at the Innovation Game.
Chat room transcript
00:06:13 Todd Brous: Hey everyone!!
Hey Professor Tushman!
00:06:34 Mark Hannant: Hello everyone
00:07:01 CTW: https://www.thecorporateexplorer.com/
00:07:55 Chris "Link" Duarte: Professor Tushman was the person that first introduced me to Open Assembly. Thank you for introducing me to "my people" 🙂
00:10:00 Todd Brous: If anyone here is interested in studying at the Harvard Business Analytics Program… please don't hesitate to reach out to the HBAPers in the room!
00:10:05 Pavitra Krishnamani: Just dropping my contact info in the chat if anyone wants to connect: Twitter (@docpavitra), Email (krishnamani.pavitra@gmail.com), Website (www.pavitramd.com)
00:20:01 CTW: Please feel free to drop all of your contact info in the chat. This will get posted to our blog.
00:20:22 Todd Brous: https://www.linkedin.com/in/toddbrous/
00:20:39 Andrea Freire: www.linkedin.com/in/andreafreirek
00:20:43 Ruby Thapar: https://www.linkedin.com/in/ruby-thapar/
00:20:43 Cem Ciftgul: https://www.linkedin.com/in/cem-ciftgul-6b01b224/
00:20:58 Arthur Ransier: https://www.linkedin.com/in/ransierarthur/
00:22:02 Osarumen Osama i.: 0sarumen 0sama i.
A journeying optimism."
linkedIn.com/in/styleTech
Osama@servethecity.be
00:22:02 Bill Schreiber: https://www.linkedin.com/in/wbschrei/
00:22:03 David Alberts: https://www.linkedin.com/in/david-alberts-beentheredonethat/
00:22:23 Anne Rush: https://linkedin.com/in/anne-rush/
00:22:36 Andrea Freire: https://www.linkedin.com/in/andreafreirek
00:24:39 Arthur Ransier: Workday also completed their acquisition of VNDLY, one of the more progressive vendor management systems
00:24:44 CTW: WORK. with Jeff Schwartz, VP Insights and Impact at Gloat: https://open-assembly.com/podcast/work/work-with-jeff-schwartz-vp-insights-and-impact-at-gloat
00:26:51 CTW: CORPORATE EXPLOER WEBSITE: https://www.thecorporateexplorer.com/
00:27:36 Pavitra Krishnamani: https://www.linkedin.com/in/pavitra-p-krishnamani-md-ms-68a60a58/
00:28:47 James Dunn: https://www.linkedin.com/in/jamespdunn
00:28:56 CTW: Jeff Davis: https://www.linkedin.com/in/nhj19cab82nt4n8hm3gqw/
00:29:27 CTW: Balaji Bondili: https://www.linkedin.com/in/balajibondili/
00:29:51 CTW: Andy Binns: https://www.linkedin.com/in/andrewjmbinns/
00:30:18 Chris "Link" Duarte: Okay I will come along too 🙂 https://www.linkedin.com/in/linkdreams/
00:30:52 Balaji Bondili: John has a suit?!
00:31:08 john winsor: I can let you borrow it.
00:31:15 CTW: The tie is a clip-on.
00:31:22 Balaji Bondili: I love to borrow those blue glasses though!
00:31:31 john winsor: You're on.
00:31:45 Mark Hannant: Available in Asia?
00:32:38 john winsor: It's my dad's tie!
00:32:51 Todd Brous: Shibani!!!! Welcome to CTW!!!
00:33:38 Todd Brous: Everyone meet Shibani!
Shibani meet everyone!
00:33:58 Mafé Rabino: Welcome to CTW @Shibani!!!
00:33:59 CTW: Welcome Shibani!
00:37:42 Arthur Ransier: My role at ntechworkforce.com (staffing firm) is dedicated to exploration; we refer to my teams work as "advanced scouting"
00:38:38 Arthur Ransier: Looking forward to getting my copy of the book and learning more 😀
00:45:03 Todd Brous: Is there a correlation of short-term optimization and quarterly/yearly financial reporting?
00:45:57 Chris "Link" Duarte: no matter how uncomfortable it might be…
00:46:40 Chris "Link" Duarte: in the face of adversity, be the change you want to see in the world 🙂
00:47:17 David Alberts: Are we able to get these charts after
00:47:26 Arturo Natella: This looks like corporate community organizing.
00:51:44 Andrew Binns: Pre-order Corporate Explorer today Get exclusive Corporate Explorers' Club Content for free Use code: OPEN Register with proof of purchase at: https://thecorporateexplorer.com/promo
00:52:47 James Dunn: Merger and Acquisition – Best practice in building a theses through integration What are similarities? What are differences?
00:59:20 Alan Korpady: Interesting approach to the first amendment
00:59:49 Chris "Link" Duarte: Book pre-ordered!
01:01:18 Mafé Rabino: What is your customer paying you for? –Qasar Younis
01:02:03 CTW: Mark Hannant: https://www.linkedin.com/in/markhannantteammagenta/
01:03:09 Todd Brous: And it's that internal friction at large orgs is what many Startups are hoping to use to our advantage
01:03:17 Mafé Rabino: Thank you @Balaji! Scarcity vs Abundance
01:03:39 Andrea Freire: I believe corporations are now busy trying to put their innovation act together, they are also discovering about their own challenges. Startup have an advantage while corporation spend time in this discovery timeframe. But that time will come to an end at some point and then they will start innovating in new sectors.
01:04:04 Cris Buningh: https://www.linkedin.com/in/crisfbuningh/
01:04:14 CTW: Welcome Cris!
01:04:29 Andrea Freire: I got to go, this was a great conversation and love Prof. Tushman. Thank you for presenting this new book. I wil get it.
01:04:38 James Dunn: listening is always a best practice
01:04:42 CTW: Sales 101
01:06:02 Chris "Link" Duarte: beautiful…just as long as advocacy itself does not disappear in the background but continues to inspire hearts
01:06:10 Mark Hannant: Great session. Thanks
01:06:20 Mafé Rabino: Thank you Prof. Tushman and Andrew Binns!
01:06:22 Pavitra Krishnamani: Yes absolutely – really resonates in the healthcare space
01:06:31 James Dunn: Thank you for a great session.
01:06:44 Ruby Thapar: Enjoyed the session – thanks.
01:06:45 Bill Schreiber: Thank you all for such inspiring talk!
01:06:46 Balaji Bondili: we are all a work in progress, thank you for thic community to have helped me find relevance and voice when I had to be more quiet inside my company!
More about the book: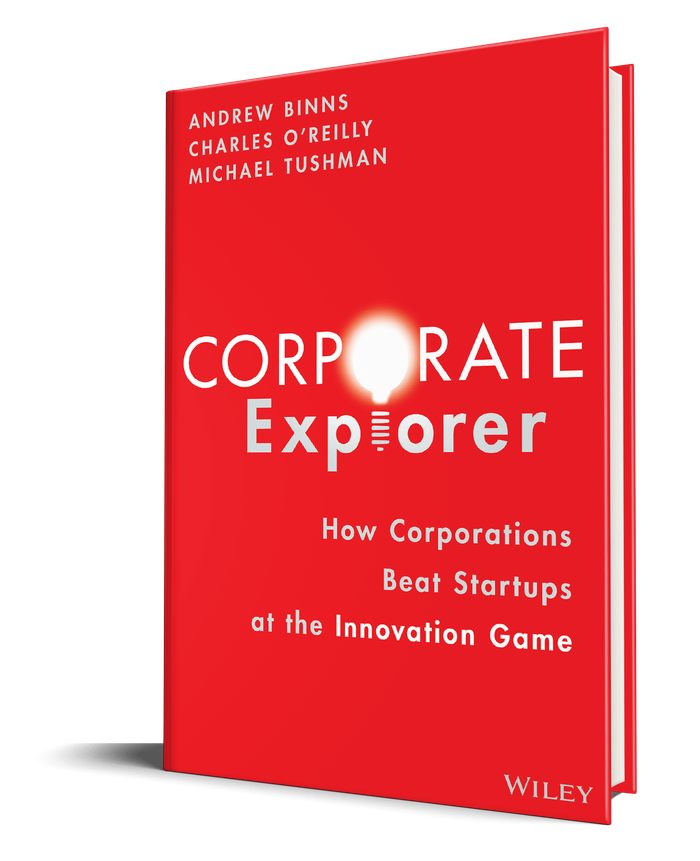 Innovation used to be seen as a game best left to entrepreneurs, but now a new breed of corporate managers is flipping this logic on its head. These Corporate Explorers have the insight, resilience, and discipline to overcome the obstacles and build new ventures from inside even the largest organizations.
Corporate Explorers are part entrepreneurs, using innovation disciplines to jump start cutting-edge ideas, and part change leaders, capable of creating support for investment. They see that corporations already own the ideas, resources, and—critically—the talent to build new ventures. Companies like Amazon, Microsoft, Bosch, LexisNexis, and Analog Devices enable managers to put these assets to use and gain an upper hand over startups that threaten to disrupt them.
Corporate Explorer is a guidebook to the practices that enable these managers to go from idea into action. It demonstrates how success is not only possible but may offer entrenched companies better odds than venture-capital backed startups.
You can pre-order a copy of the new book here.

ANDY BINNS
---
The Center for the Transformation or Work (CTW) exists to activate a new way of working. One that aligns how people work with the work they do. A way of working that is open, inclusive, dynamic and agile. An approach we believe to be the best way to help organizations and workers achieve their full potential.
The CTW was founded and is powered by Open Assembly, but would not exist without the dozens of talented individuals who have helped from this non-profit organization that aims to transform work for a billion people by 2025.
To learn more about the CTW visit: transformationofwork.org